District Heating System (DHS)
Comfortable, reliable and efficient heating on hand
District Heating Systems (DHS) are recognized in the EU as one of the key technologies and measures to reduce greenhouse gas emissions arising from heating buildings and energy consumption. District heating increases energy efficiency, lowers energy costs and reduces environmental pollution. DHS replaces individual heating devices by buildings, which results in a positive impact on the environment due to the reduction of greenhouse gas emissions and PM10 particles.
DHS system operation
The system works by delivering hot water to users via a portable pipe system. Heat travels from the boiler room, where it is produced, to end-user heating systems. As with other types of heating, users operate the system with a thermostat according to their needs.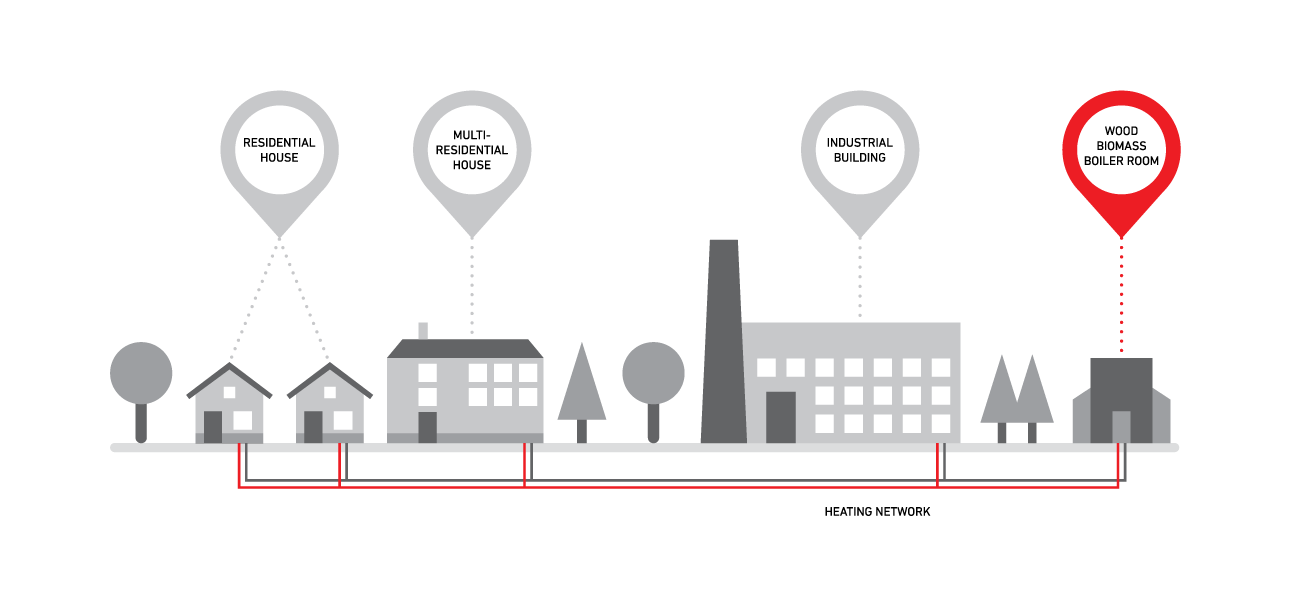 Energy efficiency of DHS
Energy efficiency is the most favorable ratio between the achieved effect, service, goods or energy and the energy invested. With district heating systems, we at Interenergo Group consistently follow the criteria for energy efficiency as dictated by the Energy Efficiency Act (EED) in the first paragraph of Article 50. The heat produced in our systems reaches and exceeds the set requirements of the said law, which provides our customers with the most energy and environmentally efficient thermal energy.
How is the connection to the system carried out?
Connecting to the system is very simple! In agreement with You, we will come for a tour of the facility and estimate the necessary work and its duration. During the connection process you won't have to worry at all, as we will carry out all the work for you. For more information on connection and implementation, submit an application for connection or contact us via e-mail or toll-free number 080 14 20.
Energy Sources
District heating is a unique system where different fuel sources can be used to produce heat. This fact is important due to the possibility of using renewable sources and potentially new (not yet discovered) fuels, which gives district heating more flexibility and less dependence on individual fuels. Our district heating systems use various energy sources, such as wood biomass and natural gas.
Wood biomass
Wood biomass (wood and wood residues) is an organic substance used as an energy source and is one of the renewable energy sources. Since thermal energy produced from wood is neutral and does not generate emissions, it has many environmental benefits.
Benefits of wood biomass:
Renewable energy source
Neutral energy source
An affordable energy source with a stable price
Increasing local employment
Locally available energy source
Contribution to forest management
Natural gas
Natural gas is a gaseous fossil fuel whose main component is methane. It is the cleanest fossil fuel with low carbon dioxide emissions from combustion and is a versatile and energy efficient energy source in comparison with other fossil fuels.
Benefits of natural gas:
Natural energy source
High calorific value
Affordable
Savings on heating
Better combustion with less harmful combustion by-products
Higher efficiency of input energy using cogeneration plants (CHP)
Switch to DHS today!
Call us on 080 14 20 Monday to Saturday from 7 a.m. to 8 p.m. and we will advise you on the quickest and most affordable way to make the change.
Do you want to learn more?